在过去的20年中,NetSupport已经成为了远程控制软件方案的领导者。NetSupport产品在全球60多个国家都有销售,目前拥有超过7百万计算机客户端,服务器和移动设备都安装有NetSupport的软件。NetSupport的所有解决方案都支持和兼容Vista操作系统。
NetSupport Manager - Remote Control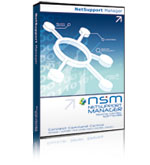 The latest evolution in Remote PC support and desktop management. Monitor multiple systems in a single action, deliver hands on remote support or interactive training. Gather real-time inventory and system data. NetSupport Manager provides the ability to support Windows, Mac, Linux, Solaris and mobile devices all from a single console.

Designed to operate over your network, via mobile communications or the internet securely without the need for firewall configuration, NetSupport Manager provides a single solution for remote support. Adding to traditional Remote Control capabilities, NetSupport Manager also provides a range of supporting tools to aid in support, including dynamic Hardware and Software Inventory reports, Systems Management tools, full Audio support and even the ability to show an Operator's screen in real-time to any number of connected systems as an integrated training tool. NetSupport Manager includes full support for 32bit and 64bit Vista systems.